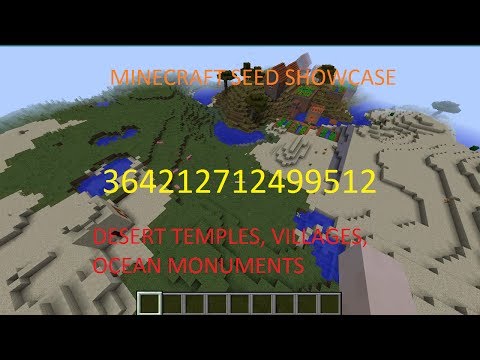 In this seed, you will spawn with a desert temple right in front of you and a savanna village behind you. The desert temple loot includes enchanted books for Thorns, Silk Touch, and other enchantments. If you go further southeast you will find another village with a blacksmith, and if you go way further east you will find a 2nd desert temple with emeralds in the loot.
Seed Code: 364212712499512
Spawn points
X: -280 / Y: 70 / Z: 139
Locations
X: -293 / Y: 69 / Z: 146
A desert temple with loot including iron, gold, and enchanted books for Silk Touch, Fire Aspect, and Thorns.
X: -303 / Y: 69 / Z: 52
A savanna village, without a blacksmith. There are 4 sheep on the well.
X: 112 / Y: 73 / Z: 264
Another village, this one has a blacksmith. The blacksmith chest has loot including bread and obsidian.
More Minecraft 1.12 Seeds