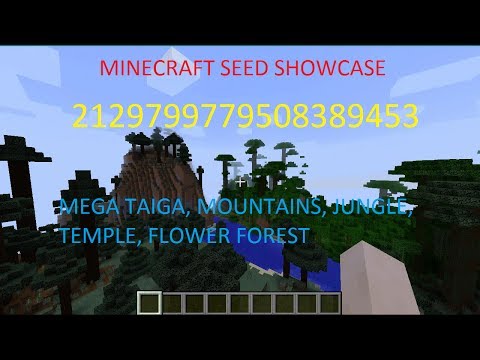 Mega Taiga, Jungle Temple, Flower ForestMinecraft 1.12 Seed
In this seed, you will spawn in a taiga biome with the rare jungle biome nearby. There is also a mountain in the mega taiga and a temple in the jungle. If you go way out east you will find a village with a blacksmith (not in the video, unfortunately).
Seed Code: 2129799779508389453
Spawn points
X: -169 / Y: 68 / Z: 337
Locations
X: -243 / Y: 121 / Z: 335
A mountain that juts out of the ground in the mega taiga with a slight overhang.
X: 14 / Y: 79 / Z: 294
A jungle temple. Unfortunately the loot isn't exactly great.
X: 275 / Y: 63 / Z: 359
A flower forest with large hills.
X: 529 / Y: 63 / Z: 196
A village with a blacksmith. Inside the chest is iron ingots and an iron helmet as well as saplings.
More Minecraft 1.12 Seeds