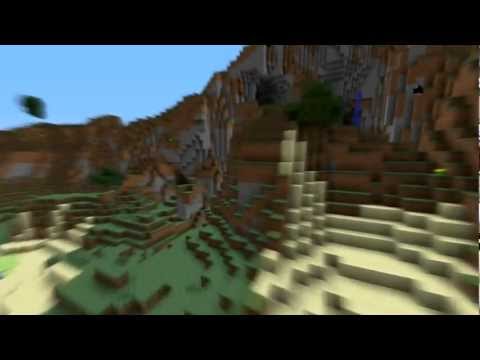 You spawn in the jungle with a very nice extreme hills biome close by. The preview picture shows a nice lake surrounded by some extreme hills. This is very close by location 3. The coordinates of the lake are: x -271 z 747 (approximately in the middle of the lake)
The video shows you a way of how you can get to all of the locations and a bit more of the surroundings (it starts on spawn twice but travels to different locations)
Seed Code: 1855599415370466102
Spawn points
X: -152 / Y: 72 / Z: 92
Locations
X: -584 / Y: 69 / Z: -950
A very nice big floating island. There is an almost entirely burried desert temple in the desert across.
X: -498 / Y: 74 / Z: -341
The first village with a nice mountain view. If you turn around there is a plains and a desert biome. The smith has some nice loot.
X: -144 / Y: 75 / Z: 548
The second village. Again with a very nice mountain view. In the middle of those mountains lies the lake of the preview image.
X: 883 / Y: 94 / Z: 105
The third village in a desert/beach biome with a jungle temple in it's backyard. It's right on a edge of an ocean.
More Minecraft 1.4 - 1.4.2 Seeds