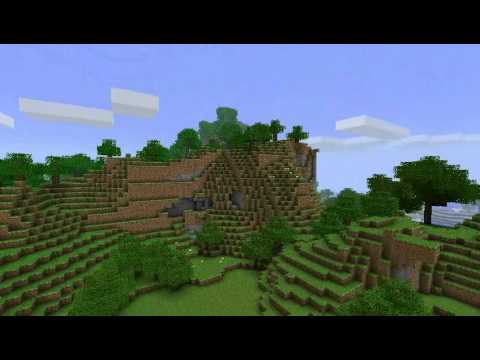 Seed Code: 1821211782
This. Seed. Is. EPIC! So, now you read this, you may search for giant flying mountains, giant flying waterfalls and maybe a giant flying spagettimonster. But: You wont find any of theese things. But nevertheless, this is one of the most epic seeds ever discovered (personal opinion, but you may agree). The reason cant be found at the surface. Since Minecraft contains the word mine, you will spend much time underground. And when you are going to discover the underground of this seed, you will see things, you havent seen so far. Tons of them. Believe me.<br/><br/>The original name of this seed is Küsst du schon oder beisst du noch? (Dunno whether if its with the ? or not)<br/>This seed was discovered by <strong>Sophia22</strong><br/>Thank you.
Spawn points
X: 67 / Y: 67 / Z: 31
X: 98 / Y: 66 / Z: 29
Locations
X: -15 / Y: 70 / Z: 80
There are two main caves I discovered around the Spawnpoint. Maybe they are connected to each other somehow, but if so, I did not find it out yet. However, this is the first one of them. When you enter the right hole to go in, you will find a reeealy big waterfall, if you follow it down you see a lavafall. Follow the waterfall further down until the end to get to Location 2. Alternatively, you can stop following the waterfall a few seconds after passing the lavafall, to get to a place similar to location 2 and find some gold. <br/>Hint: Try to follow the Lavafall(!) If you manage this, you will find the biggest lavalake ever and some diamonds.
X: -50 / Y: 12 / Z: 100
A big lavalake next to a waterfall. The water floated over about half of the lake and turned it into obsidian. With enough Light and a sharp eye, you will discover 5 diamonds at (-34|15|108) so you can craft a diamond-pickaxe and start collecting the obsidian!
X: -50 / Y: 70 / Z: -30
The second cave-system. The first difficulty is the entering. For a good start, you can try the second entry at (-93|70|-50). Then you will find yourself standing in front of a deep hole with a Lavafall. Getting down is not impossible, but not too easy either. If you get down there, well, discover! And talk to me again in 2 Years. Really, I used about 250 torches to discover the cave -system and im not ready yet. Many places are hidden, so you will find new places everytime you think that you just discovered everything. You will find many things: Ores, waterfalls, lavalakes, lavafalls, lavafalls next to waterfalls, and much more. But there is one thing you wont find. The way back.
X: -160 / Y: 13 / Z: 0
I am sorry, but I cant describe the way to this room. Its perfectly hidden. Once I left that place I could not find it a second time. Try it!