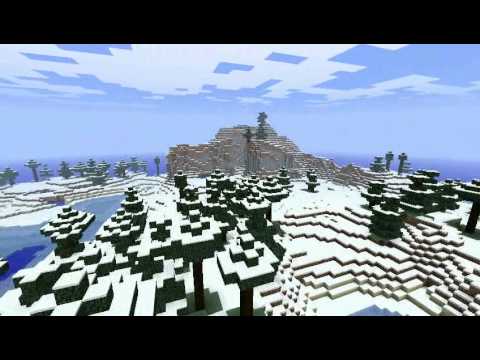 Seed Code: AeonSpoke
Scince we dont have a lot of snow worlds on this site I decided to do this seed which got its name from one of my favourite bands: Aeon Spoke. If there were categories for seeds, I would put this world into arctic because there is so much snow and ice that you will get snow blind from playing this too long.
Spawn points
X: 466 / Y: 66 / Z: 43
X: -85 / Y: 65 / Z: -63
X: -172 / Y: 65 / Z: 119
Locations
X: 170 / Y: 65 / Z: 378
If you look at this ice you will notice that the small ice blocks build clusters of ca. 10x10 Blocks.
X: 35 / Y: 74 / Z: 460
Soo much snow. Lets build a snowman :3
X: 115 / Y: 68 / Z: 606
Warm yourself up at the Zombie dungeon. But beware: There may be zombies who do just the same thing. You will find 6 Iron, 1 Bucket and 5 Saddles there.
X: 266 / Y: 65 / Z: 93
I forgot what this location was but I made a note which says "Ice". Guess theres a lot of ice :)