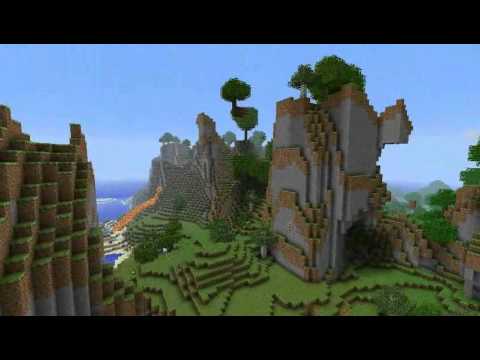 Seed Code: DevideByZero
You may have heard of this one before. Because its cool. You spawn near a big mountain that is next to other big mountains. You find many trees, some waterfalls and even a flat area at (620|70|350). All locations are quite far away from the spawnpoint, so you wil have to walk around and discover the world a bit to reach them.
Spawn points
X: -44 / Y: 65 / Z: 12
Locations
X: 650 / Y: 70 / Z: 260
You have seen big waterfalls. You might also have seen big lavafalls. But have you seen both of them in such a perfect harmony, side by side? I bet not.
X: 385 / Y: 115 / Z: 490
The best tree you can discover. It grows on 3 dirt blocks that fly around without any connection to the surface.
X: 490 / Y: 100 / Z: 100
Dungeons are quite rare. Dungeons in mountains are even rarer. But here is one. Not very easy to find, the entry is at a side of a mountain. Alternatively, you can just dig downwards from (490|110|100). In the chest, you can find one bucket, two brads, three iron ingots and one string.
X: 390 / Y: 100 / Z: 420
Just a flying plate. Its cool becouse its so simple. And Flat.