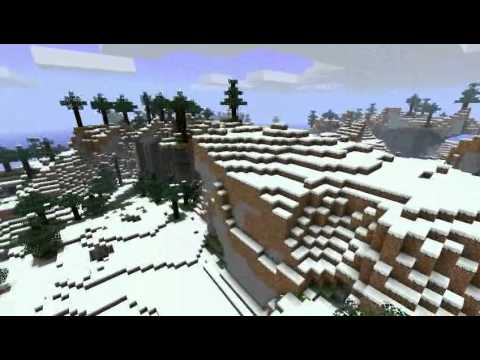 Seed Code: Diamonds
Diamonds is a snow and ice world with a very huge dungeon, some daylight lavalakes and some cool mountains. You also have to check out the giant underground waterfall shown at screenshot 6. Go to (80|70|2), and you will find a hole leading you to the waterfall. PROTIP: go to <a href="http://minecraft-seeds.net/view/34/Mojang">the Mojang Seed</a> to find over 14 diamonds and lots of other ores.
713,986 views

32 comments
Spawn points
X: 88 / Y: 66 / Z: 84
Locations
X: -66 / Y: 63 / Z: -163
The entry to a realy big dungeon. You can spend really much time to explore the hole thing. Maybe you will find some underground waterfall, lots of coal and iron ore, even a small room with two chests and a monster spawner.
X: -50 / Y: 50 / Z: -200
This is a giant room inside the dungeon of locaion 1. If you find that place, you will be able to get very much iron ore, very much coal and you can get to many other places of the dungeon like the waterfalls.
X: -20 / Y: 72 / Z: -256
Its a daylight lavalake. At night, you will find many animals around it.
X: -35 / Y: 75 / Z: -250
The lake form location 3. Dig straight under the wodden blocks to find DIAMONDS!! But be careful. If you dig too deep, you will fall into lava.